Welcome to Cowtec!
News Flash!
Our Other Site...
Filedoyen now has its own dedicated Web site...
www.filedoyen.com
Cowtec brings you innovative and usable software for Microsoft Windows. We currently have three programs available: Filedoyen for working with files, archives and text, EyeDrives for showing drive space and Quifilt for simple file management.
An overview of the various programs can be found on the Products page with detailed descriptions available from each product's respective page. Be sure to check the latest news about updates and new releases here.
Featured Product:
Filedoyen
Filedoyen is a fast and flexible single or dual-pane file and archive (zip) manager with integrated text, code editor and hex editors, image viewer, search tool and file and folder compare.
Whether you want to just shuffle files around, decompress a Zip archive, edit a file, look at some images or Web files, compare folders or files, search for files, text or within archives or even get down and edit a file in hex, Filedoyen can do it all and more - easily.
FREE

and


SPAM-PROOF

!



CLICK


to sign up for
Fred Langa's award-winning e-newsletter.

You'll see how to get LOTS more from your hardware, software, and time online!
Our Software
Cowtec's software consists of a number of shareware and freeware programs.
Our premier program: Filedoyen, is a comprehensive file and archive manager with an integrated syntax highlighting text editor, image viewer and file and text search capabilities. If you would like to try it, there is a free, fully functional evaluation version available for download.
Our freeware offerings are the popular and long-running EyeDrives tool, useful for keeping an eye on your disk space and the recently released Quifilt. Quifilt (from 'Quick file tool), is an easy to use single or dual pane file manager.
We hope this and future software will prove useful to you!
Last update:
Planet-Shareware.com
Cowtec is a Software Industry Professionals Member.
The author is a member of
PadRepository.com
Visitors to the site since February 6, 2006: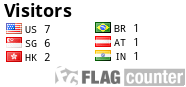 Unique visitors since August 2, 2010